Evangelization
Welcome!
Welome to the Evangelization Page of the Office of Laity and Family Life. The Church needs evangelizers who reach out to those who have fallen away from their faith as well as those who have never heard the Good News of Jesus Christ. Our evangelization efforts seek to support existing programs on the parish, deanery, and archdiocesan levels and strengthen them, reaching more souls each day. Our office is here to serve you. Check out our brochure, which offers valuable resources for several ministries. If I can help your evangelization efforts on any level, please contact me at 314-792-7178 or michaelhorn@archstl.org.
In Christ,
Michael Horn
The Archdiocese of St. Louis and St. Mary of Victories Catholic Church are co-sponsoring a Basic Evangelization training session from St. Paul Evangelization Ministries on Friday, March 17th and Saturday, March 18th.
Day 1: Friday, March 17, 2017, from 6PM to 9PM
Day 2: Saturday, March 18, 2017, from 9AM to 3PM
Admission $10 (includes lunch on Saturday, March 18th). Seating is limited. Reserve your seat now at https://events.archstl.org/Product/rvdsfpid/st-paul-street-evangelization-conference-396/rvdsfcatid/office-of-laity-and-family-life-69.
Week 10: The Importance of Ongoing Christian Formation
Sometimes we really want to share our faith by evangelizing but we are unsure because we believe we don't know our faith well enough. At these times we need to ask ourselves, "Will I ever know my faith well enough?" Or "Did St. Peter, who denied Jesus three times, when it mattered most, know his faith well enough?" If someone asks us a question we don't know, we can always answer, "That is a great question and I want to give you a great answer. Let me do a little research and get back with you." That in itself is a great answer because you are demonstrating the truth that faith formation and learning should continue until the day we die. It doesn't end at our Confirmation. We are so blessed to have faith facts, Scripture, the Church Fathers, all the writings of the saints at our fingertips, and so much more through modern technology. We have no need to be afraid.
Week 9: Making Haste and Reflecting on God's Actions in our Lives
As we begin the New Year of 2017, what can we learn from the shepherds who hastened to see Jesus and from Mary? "The shepherds went in haste to Bethlehem": To what do you hasten: God or the cares of the world? How can you find Jesus in your life of work and prayer? "They made known the message that had been told them": How do you share the Good News of Jesus with those you meet? How does your life reflect God's saving message? "Mary kept all these things, reflecting on them in her heart": How often do you take time for silent prayer and reflection? What one thing can you do to keep God and his Word closer to your heart?
Week 8: The Communion of Saints
Sometimes Catholic traditions are a stumbling block for our separated brothers and sisters. Topics normal to the average Catholic are sometimes almost impossible to understand for others and therefore become a barrier to evangelization. One of the hardest topics to explain is our belief in the "Communion of Saints." Many non-Catholics view our practice of venerating or "praying to" saints as idolatry. These fears stem from a sincere desire to obey God's commandments but a false understanding of our prayers to the saints. From a historical perspective veneration of the saints has always been a part of Christianity – there is evidence of prayers to Peter and Paul in the catacombs! From a biblical perspective, one may explain in five steps. The dead are alive in heaven (Hebrews 12: 22-24), God hears their prayers (1 Peter 3: 12a), we are forever connected to them through Christ (John 15:5), we are called to intercede for one another in Christ (1 Tim 2:1-5), and they present our prayers to God (Rev 5:8). The Bible is common ground and these citations can foster further discussion and may open the way to further evangelization.
Week 7: Let Christ Win
We are approaching Christmas, a time of year we always want to be filled with joy and peace. However, often we find ourselves in conflict with friends or family members during dinner or parties. When we find ourselves in these situations, it is vital to remember that our goal is not to win the argument but to teach the truth in love, to radiate Christ's truth and love. Refraining from a harsh statement, even when it seems like the perfect comeback, can be invaluable for converting hearts to Christ. So this year, listen to each individual and speak the truth in love. Don't try to win the argument. The real victory is the conversion of a soul to Christ through His grace found in our love.
Week 6: The Story
As human beings, we are attracted to stories. We are drawn to them, whether we read them in a book, watch them in a theater, or listen to others narrate them. It is a wonderful thing to know those special people in our lives- family members, friends, actors- who have a gift for telling a story. They captivate us as they tell tales that are funny, sad, interesting, or inspiring.
The story of our Catholic faith is glorious. Salvation history is laden with instances of God showing His unending love and faithfulness to His people. An angel announces to a 14 year old that she will give birth to the Messiah. The Savior chooses twelve ordinary men to accompany Him in His mission of saving mankind. Jesus dies and rises. His apostles preach the Gospel to the ends of the earth. The story continues today.
As Catholics seeking to evangelize others, we must become comfortable sharing our own personal story of faith and the beautiful stories of the Gospels and the lives of the saints. Our story is beautiful. Share yours!
Week 5: Giving Your Life Away
"You want to be happy? Empty your life out. Give it away. Give it away and you will find the divine life increasing in you..." --Bishop Barron, Word on Fire, Nov. 22, 2016
Our culture tells us that we are an empty vessel that can be happy if it is just filled up with enough money, possessions, honor, fame. These things don't satiate for long. Christ teaches us to give up our possessions and follow him (Mt 19:21). In our culture, it definitely sounds counter-intuitive, but the more we give away, the more fulfilled and happy we can become. Evangelization is a way to do just that: give your life away, bring the light of Christ to others. It will bring more lasting happiness than anything you can buy this Christmas.
Week 4: Sacra Pagina
How should I pray? Jesus has answered this question for us in the Gospels. He emphasized the importance of silence and solitude for genuine prayer and taught us to pray to our heavenly Father in the Lord's Prayer. He also mentioned that His words would not pass away (Luke 21:33), reminding us of the power of the Scriptures, which are inspired by God. "For the word of God is living and active and sharper than any two-edged sword…able to judge the thoughts and intentions of the heart" (Hebrews 4:12). The Sacred Word of Scripture enables us to encounter the Word who is Christ. It is vital for us to read Scripture daily for spiritual nourishment, whether we pray lectio divina, meditate, or listen attentively to the Liturgy of the Word at Mass. Knowledge of Scripture makes us better evangelists who can relate to others as Christ did. It is not to be used as a weapon or to show off knowledge, but it can be used to show how God's Word applies to our daily lives.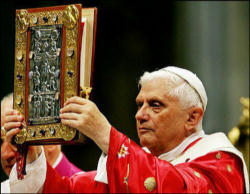 Week 3: Humility as a Key to Evangelization
Keys are an important image in the Bible. Jesus gave keys to Peter to show his authority in the nascent Church. Keys signified the Steward of the Davidic Kingdom and His authority (Is 22:22). The High Priest used his keys for opening the doors so people could enter the Temple. The Holy Spirit gives us keys to use to reach the people we want to evangelize. Humility is one of those keys. Jesus tells us to learn from him for he is meek and humble of heart (Mt 11:29). St. Bernard of Clairvaux identified the three most important Christian virtues as "Humility, humility, humility." St. Thomas Aquinas taught us that the inverse of humility, the Deadly Sin of Pride brings with it disobedience, hypocrisy, contention, obstinacy, discord, and love of discord – things which are obstacles to evangelization! So in our approach with others, let us be gentle and develop friendships. Theological knowledge and good intentions mean nothing if we are not humble like Jesus.
Week 2: The Art of Listening
One of the most neglected skills in the world today is listening. Sometimes, the best way to love someone where they are and to lead them closer to Christ is to listen to that person's story of life. It is vital to understand, at least in part, their situation and needs. Quiet and compassionate listening is an effective way to show the love of Christ to others. A person is much more likely to understand our religion if we actually practice it and listen as Christ listened. Christ opened His ears and His heart to the woman at the well and the rich young man. He listened to Jairus and His apostles. One of the best qualities of St. Francis of Assisi was his ability to listen. As G.K. Chesterton wrote in his biography of the great Italian saint: "… there was never a man who looked into those brown burning eyes without being certain that Francis Bernadone was really interested in him; in his own individual inner life from the cradle to the grave; that he himself was being valued and taken seriously and not being added to the spoils of some social policy or the names in some clerical document." Let us love by listening, brothers and sisters.
Week 1: The Power of a Personal Invitation
In the last few months, I have come across a few articles and radio interviews that have broken my heart. These have included a brief account of a fallen-away Catholic explaining to others why he never went to Mass or came back to the Catholic Church. His reason was simple: no one ever invited him to go back to Mass. This is stunning. It is our duty as Catholics to invite others to the eternal banquet, the supper of the Lord, in which we worship the living God and receive His Body and Blood. What could be more worthy of an invitation than attending the Sunday Eucharist? We are always ready to invite people to sporting events or concerts. Why can't we invite them to worship God with us? We all know people- friends and family members- who are inactive Catholics or who do not attend Mass as much as they should. When was the last time you invited one of these people to go to Mass with you? Ever? What do we have to lose if they say no? Nothing. How can someone see the beauty of Catholicism if we do not radiate joy or show excitement in approaching the altar?
Month of November Dedicated to the Souls in Purgatory
November is dedicated to the Holy Souls in Purgatory. The Church commemorates alll the faithful who have departed from this life but have not yet attained the joys of heaven. The Church has always taught us to pray for those who have gone into eternity. Even in the Old Testament prayers and alms were offered for the souls of the dead by those who thought "well and religiously concerning the resurrection." It was believed that "they who had fallen asleep with godliness had great grace laid up for them" and that "it is therefore a holy and wholesome thought to pray for the dead, that they may be loosed from sins." We know that a defiled soul cannot enter into heaven. Join us in praying for our beloved dead.
Month of October Dedicated to the Holy Rosary
October is the month of the Holy Rosary because the anniversaryof victory at the Battle at Lepanto and the feast of Our Lady of the Rosary occur in October. The Battle of Lepanto and the institution of the feast day took place in the 17th century. Pope Leo XIII officially dedicated the entire month to devotion to the Holy Rosary in the late 1800s . This is certainly timely as we approach the elections in November. Let us take advantage of October to pray for our nation and the conversion of hearts that they may know God and embrace the truth about Jesus Christ, the God of life and love. There are plenty of prayer opportunities this month. A list of them can be found on the homepage of the Office of Laity and Family Life website. Our Lady of the Rosary, pray for us!
September 29: The Feast of the Holy Archangels
On September 29 the Church honors the holy Archangels. Three of the seven archangels are mentioned in the Bible: Michael, Gabriel, and Raphael. The archangels are one of the lowest of the nine choirs of angels, which in ascending order are angels, archangels, virtues, powers, principalities, dominions, thrones, cherubim, and seraphim.
Archangels are so named because their choir is above that of the regular angels (which inclide Guardian Angels). While the lower choirs have closer dealings with events on earth, the higher choirs attend the throne of God in heaven.
Saint Michael the Archangel
Michael means, "Who is like God?" This arhangel is found in the Old Testament in Daniel 10:13-21, 10:21, 12:1, and in the New Testament in Rev. 12:7-9 and Jude 1:9. St. Michael is known for battling Lucifer, who was a seraph probably, and casting him and the fallen angels out of heaven. Because of this feat, Michael is the leader or prince of the angels. St. Michael is also the champion of God's people and the protector of the Church. He brings the souls of men to their judgment before God.
Saint Gabriel the Archangel
Gabriel means "Power of God." St. Gabriel appears in the Old Testament in Daniel 8:15-26 and 9:21-27, and in the New Testament in Luke 1:11-38. St. Gabriel had a messenger role in the Annunciation and appeared to Zechariah and the Blessed Virgin Mary, announcing the birth of Jesus and the birth of St. John the Baptist, respectively. Some think he appeared to St. Joseph and the shepherds at Christ's Nativity. He is called the herald angel and the angel of mercy and consolation.
Saint Raphael the Archangel
Raphael means "God has healed." He is only mentioned once in Scripture- Tobit 12- where he is described as a companion, protector, and healer. He is also believed to be the angel who stirred the water in the pool of Bethesda in Jerusalem, giving it its healing properties. For this reason he is known as a healing angel and a companion angel.
I will give thanks to you, O LORD, with all my heart,
for you have heard the words of my mouth;
in the presence of the angels I will sing your praise;
I will worship at your holy temple
and give thanks to your name.
Canonization of Mother Teresa of Kolkata
The canonization and Mass for Mother Teresa will take place on Sunday, September 4th at 3 am CST. Hundreds of thousands of pilgrims are expected to attend the festivities associated with this monumental event.
Lord Jesus, merciful face of the Father, you came to give us the Good News of the Father's mercy and tenderness.
We thank you for the gift of our dearest Mother, Blessed Teresa of Calcutta, who will be canonized in this Jubilee Year of Mercy. You chose her to be your presence, your love and compassion to the brokenhearted, the unwanted, the abandoned and the dying. She responded wholeheartedly to your cry, "I Thirst," by the holiness of her life and humble works of love to the poorest of the poor.
We pray, through her intercession, for the grace to experience your merciful love and share it in our own families, communities and with all our suffering brothers and sisters. Help us to give our "hearts to love and hands to serve," after the example of Mother Teresa. Lord Jesus, bless every member of our family, our parish, our diocese, our country, especially those most in need, that we all may be transformed by your merciful love. Amen.
Month of September Dedicated to the Seven Sorrows of Mary
The month of September is dedicated to the Seven Sorrows of Mary. This devotion began in the twelfth century in monastic circles under the influence of St. Anselm and St. Bernard.
1. The prophecy of Simeon. (St. Luke 2:34, 35)
2. The flight into Egypt. (St. Matthew 2:13, 14)
3. The loss of the Child Jesus in the temple. (St. Luke 2: 43-45)
4. The meeting of Jesus and Mary on the Way of the Cross
5. The Crucifixion.
6. The taking down of the Body of Jesus from the Cross.
7. The burial of Jesus.
Month of August Dedicated to the Immaculate Heart of Mary
The month of August is dedicated to the Immaculate Heart of Mary. The physical heart of Mary is venerated (and not adored as the Sacred Heart of Jesus is) because it is united to her person and is the seat of her love, virtue, and inner life. This devotion has received new emphasis in this century from the visions given to Lucy Dos Santos, oldest of the visionaries of Fatima, in her convent in Tuy, in Spain, in 1925 and 1926. In the visions Our Lady asked for the practice of the Five First Saturdays to help make amends for the offenses committed against her heart by the blasphemies and ingratitude of men. The practice parallels the devotion of the Nine First Fridays in honor of the Sacred Heart.
Each of us owes reparation to the Immaculate Heart of Mary. Every sin of ours causes grief and suffering to her in union with her divine Son. For sin was the cause of that terrible day on Calvary when she, as the New Eve, shared in the torment of the great sacrifice, and, amidst indescribable pain, brought forth spiritually all the members of the Mystical Body of her divine Son. God willed that Mary should be intimately associated with His Son in bearing the burden of all sin; surely then, her Immaculate Heart, in union with His divine Heart, should receive reparation from us who have caused them such pain. If anyone causes hurt to even a very ordinary human being, he does not overlook the need to make amends. How much more do we owe to the Hearts of Jesus and Mary!
Immaculate Heart of Mary, pray for us!
Core Initiatives
REBORN: YOU, YOUR CHILD, AND THE HEART OF BAPTISM
A traditional rite, an important symbol, an excuse for a family photo op around a newborn… Baptism means a lot of different things to those who experience it. What if there is a lot more happening in Baptism than most people realize?
DIVE DEEP INTO THE TRUE MEANING OF BAPTISM
The home-edition of Reborn features 3 DVDs that explore personal and sacred nature of of Baptism for parents, godparents and, most importantly, the baptized. With a step-by-step explanation of the rite itself, including it's place in Scripture and Tradition, Reborn shows how baptism reveals the heart of God's love for His children. It offers practical guidance for the catechumen, the parents, and the godparents.
For more information or to borrow a copy of Reborn, please contact Michael Horn at michaelhorn@archstl.org or 314-792-7178.
---
---
Contact Information